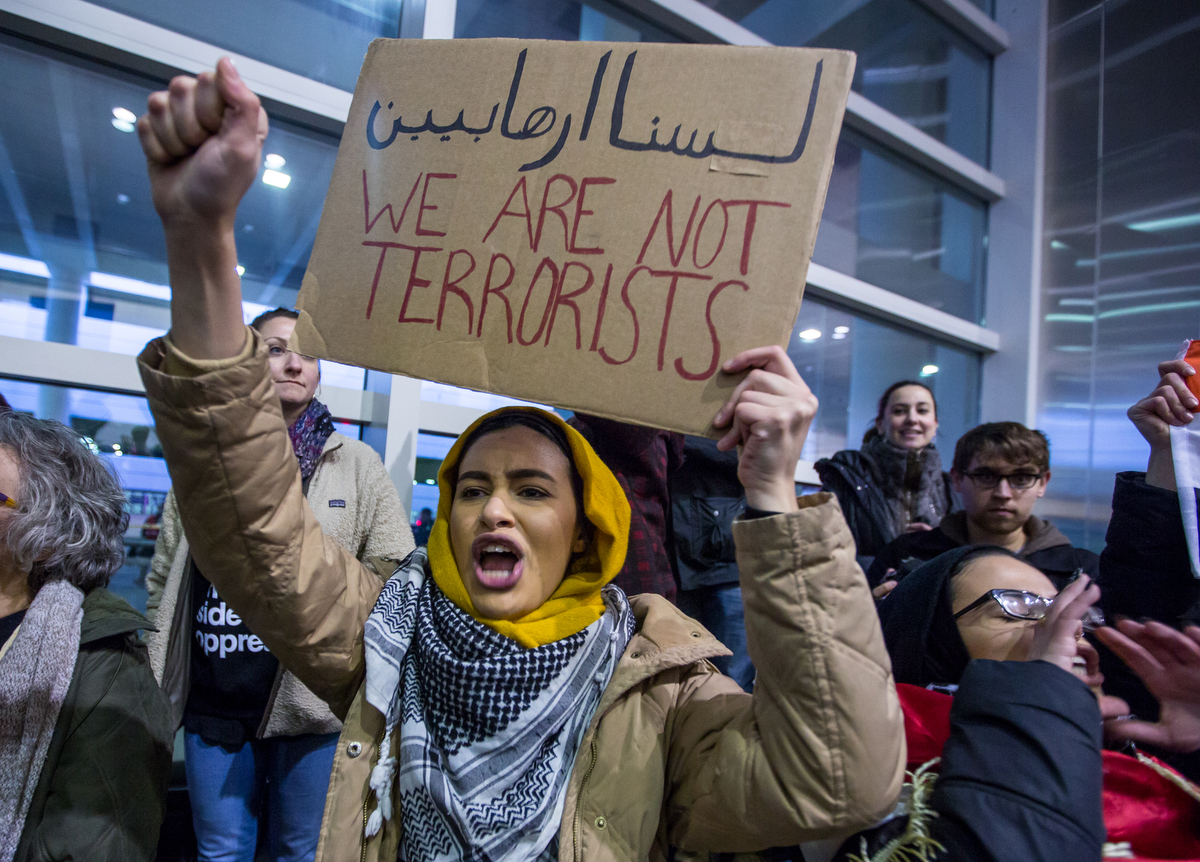 A woman participates with thousands in a protest against President Donald Trump and his new immigration policy at Detroit International Airport on Sunday, January 29, 2017.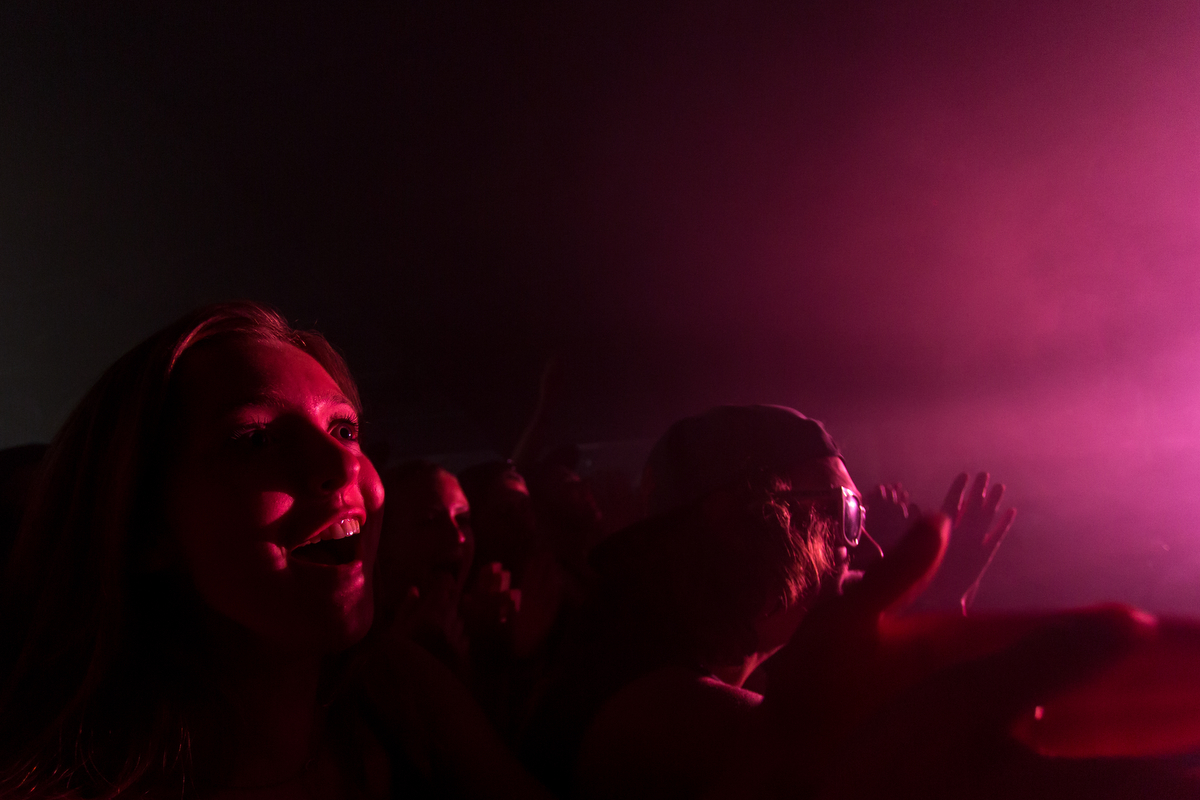 A girl watches as Glass Animals, an indie rock band from Oxford, England, performs at Sasquatch! Music Festival at the George Amphitheater in George, Washington.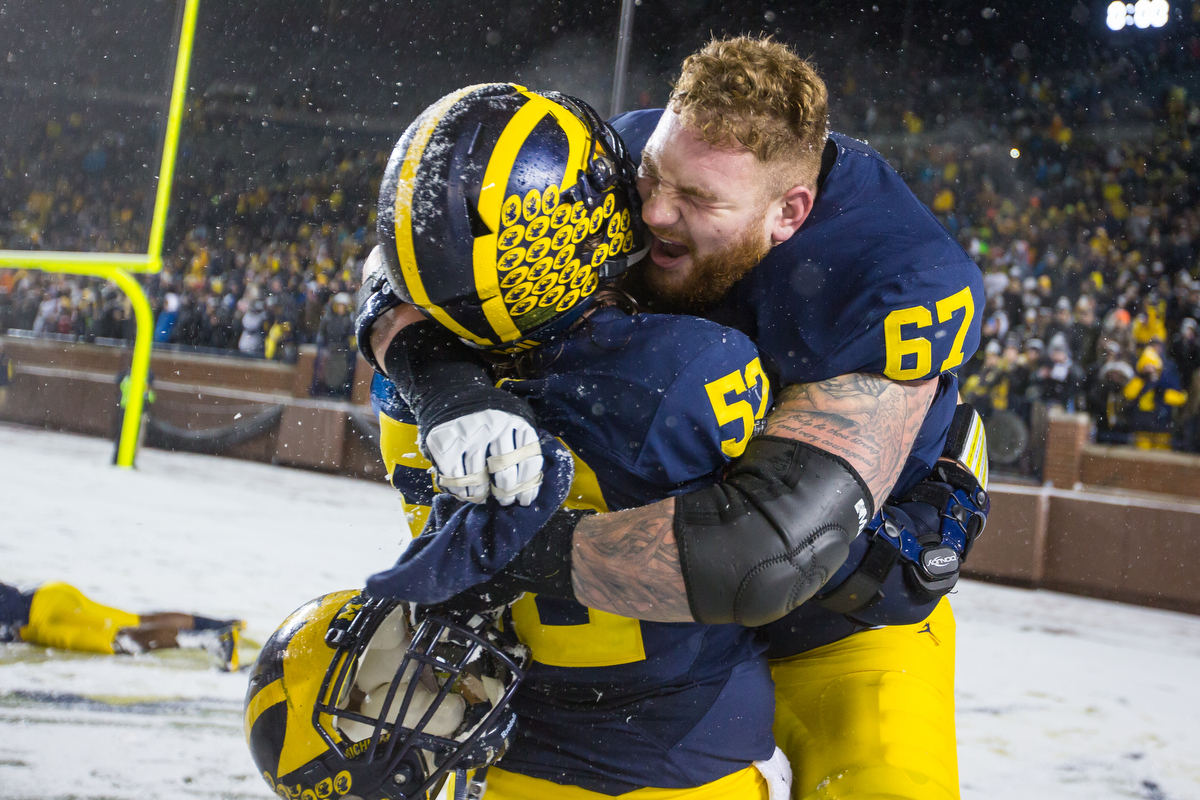 Michigan's offensive lineman Mason Cole (52), left and Michigan's offensive lineman Kyle Kalis (67) celebrate after the completion of the game between the Michigan Wolverines and the Indiana Hoosiers at Michigan Stadium on Saturday, November 19, 2016. Michigan beat Indiana 20-10.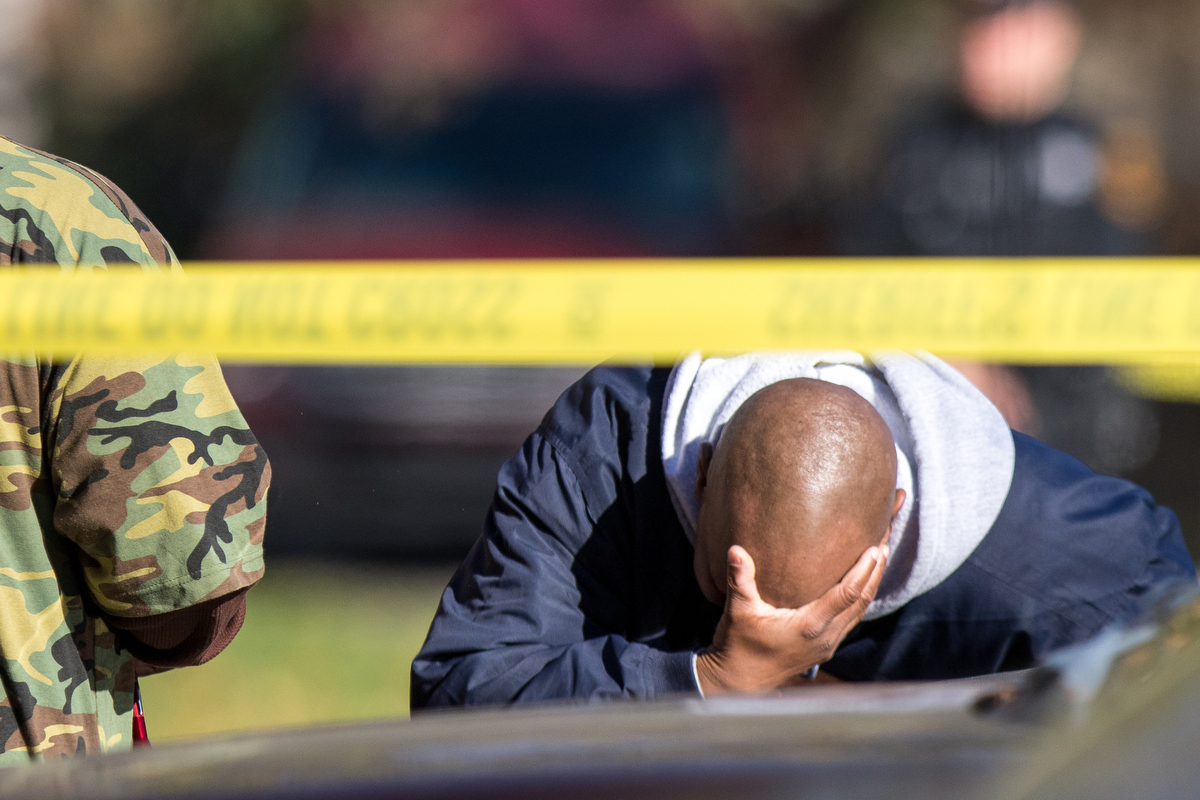 A man rests his head in his hands after talking to police outside of an apartment complex after a three-year-old was fatally shot on Sunday, November 13, 2016.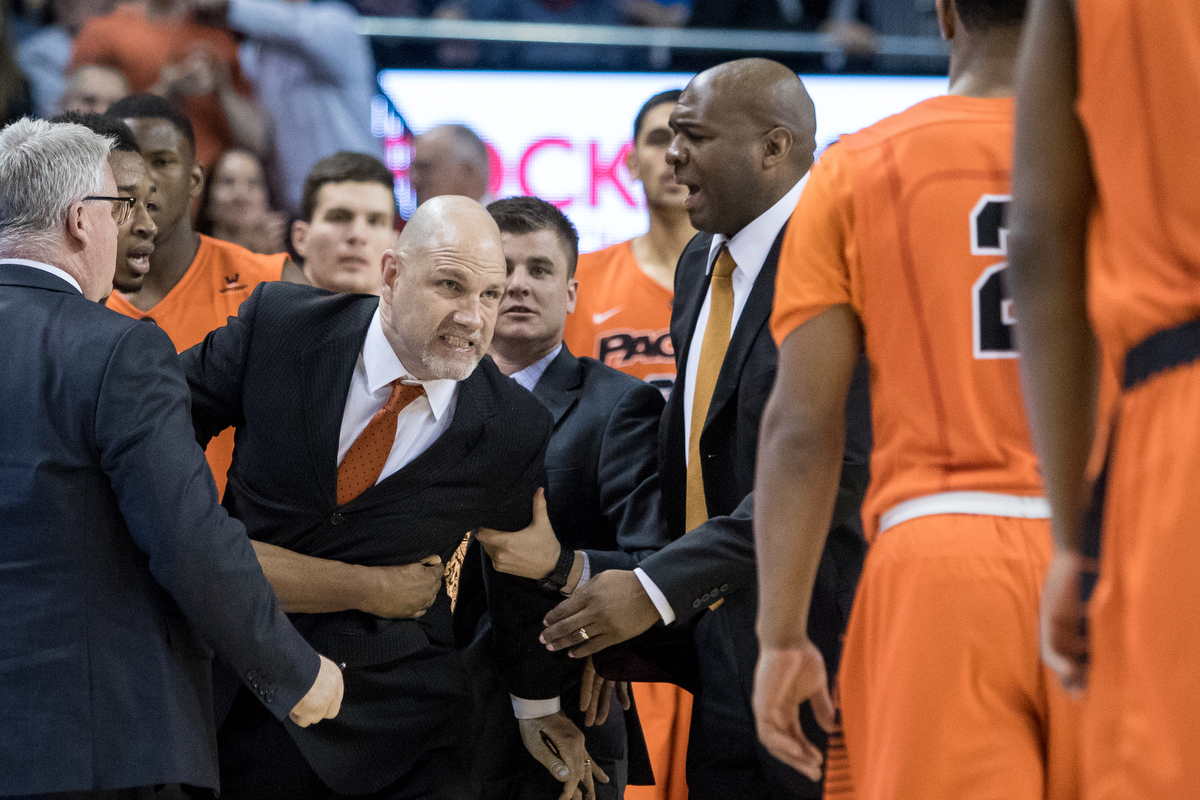 Pacific Tigers interim head coach Mike Burns is held back by members of the coaching staff and of the team as he argues with a referee. Burns was ejected form the game during the second half of play for a technical foul. The Zags went on to win 90-68 at the McCarthey Athletic Center.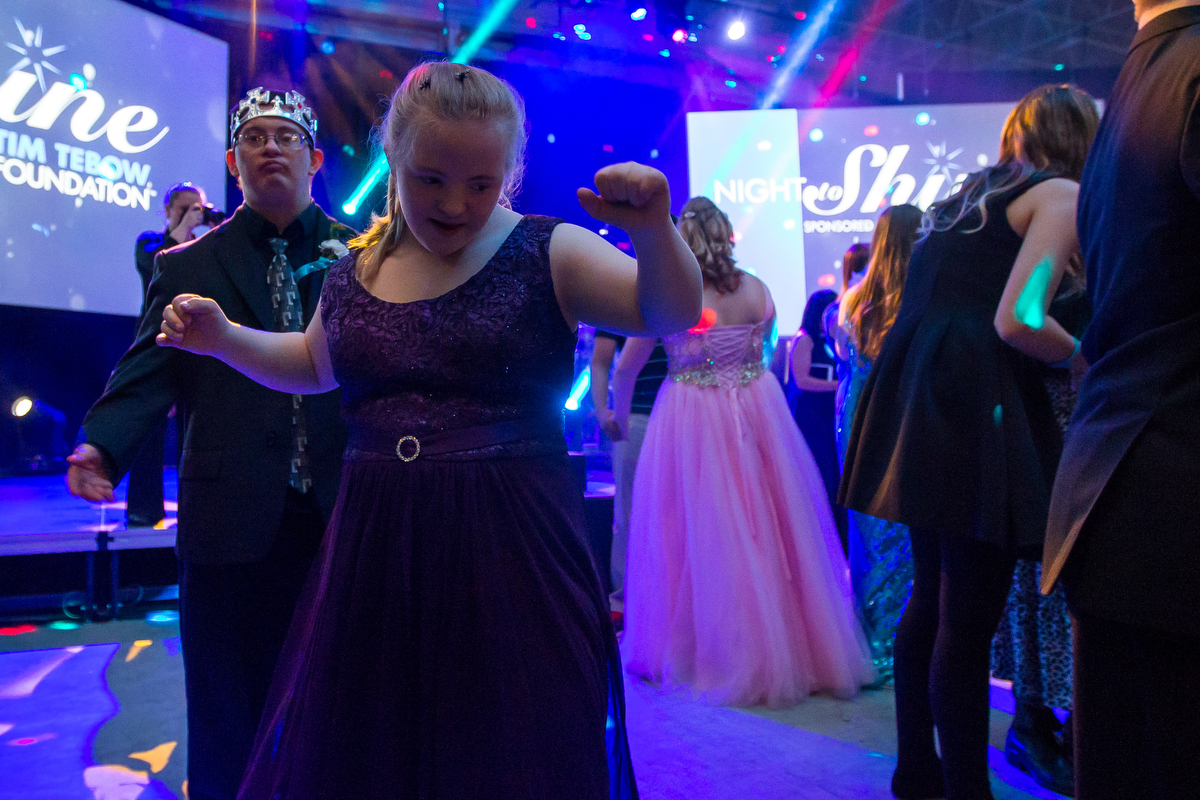 Ruby Hancock, front, dances with her boyfriend Peter at 2 | 42 Community Church for the Night to Shine on Friday, February 10, 2017. Night to Shine, sponsored by the Tim Tebow Foundation, is a special needs prom for anyone aged 14 and older and occurs at hundreds of locations around the country.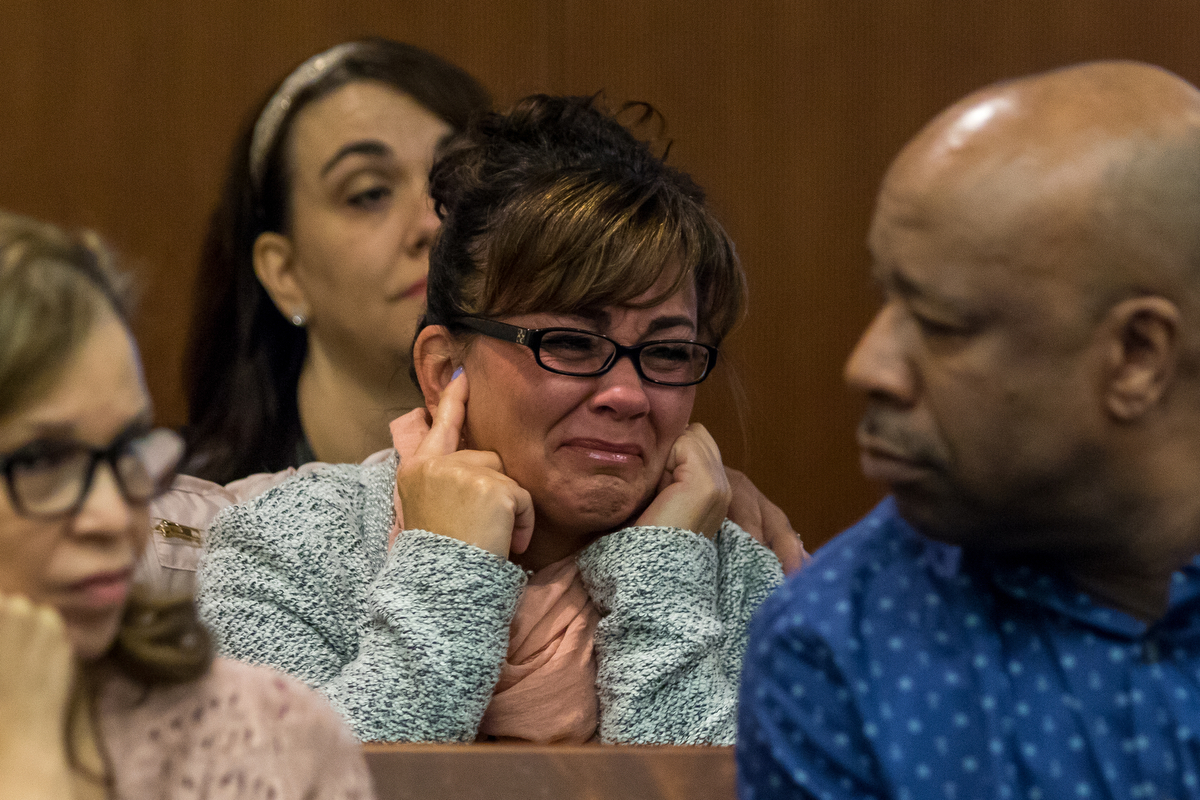 People sitting in court room three react during Michigan State Trooper Patrick Gallagher's testimony during a preliminary examination in the court case for Marcus Palmer at the 15th District Court on Friday, March 24, 2017. Palmer is accused of murdering 18-year-old Zachary Curry on the morning of July 24, 2016.
Police talk near a car in the middle of East Michigan Ave. near Wiard Road after a car verses pedestrian accident, leaving one fatality, occurred in Ypsilanti on the evening of Friday, February 24, 2017. The incident is still under investigation.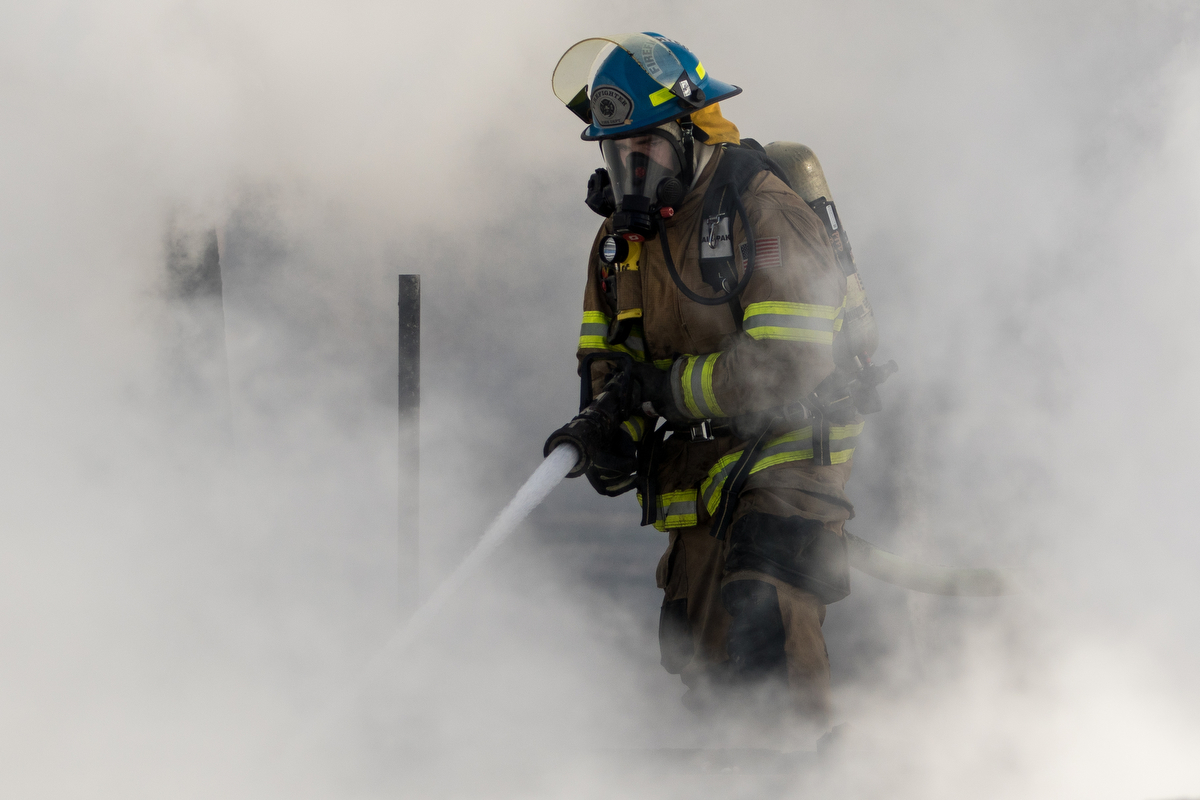 A fire fighter is engulfed in smoke as he works to extinguish a structure fire on Scully Road in Webster Township on Friday, March 10, 2017. The fire completely destroyed the home and a nearby field caught on fire. The cause of the fire is still under investigation.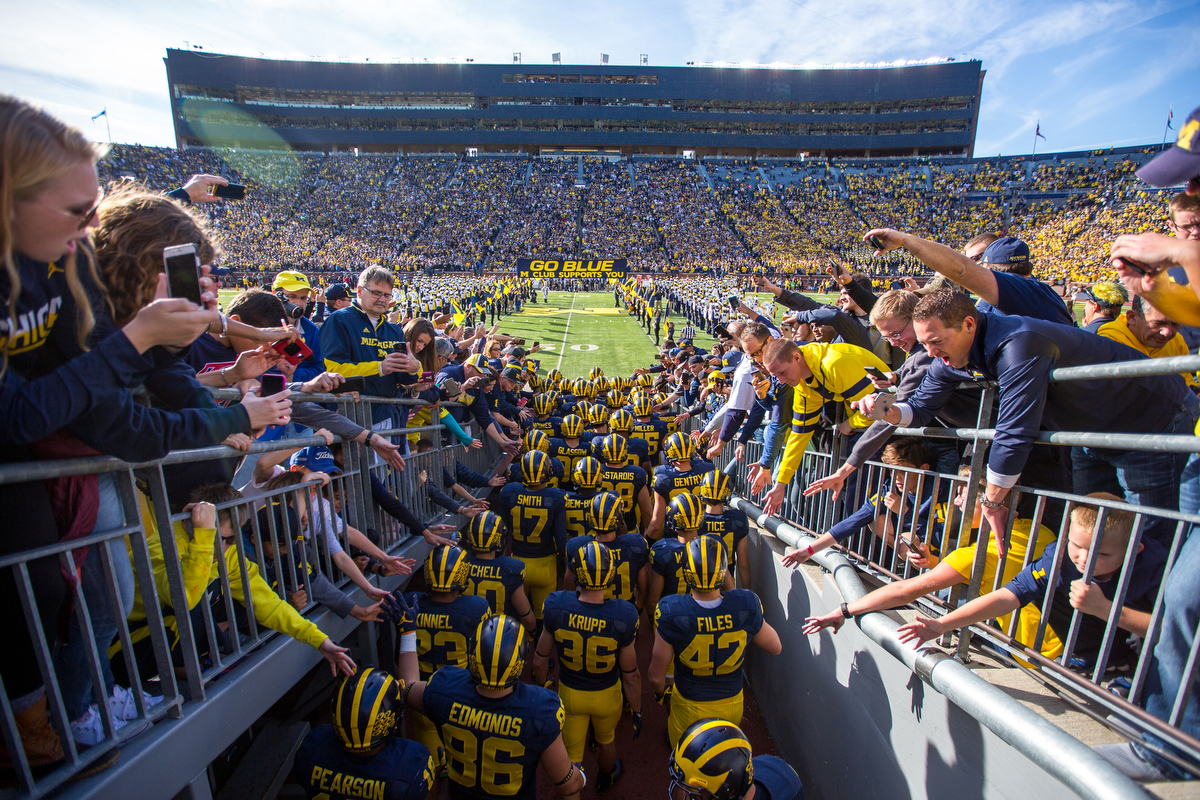 The Michigan players wait to run onto the field before kickoff against Maryland at Michigan Stadium on Saturday, November 5, 2016. The Wolverines lead the Terrapins 35-0 at half time.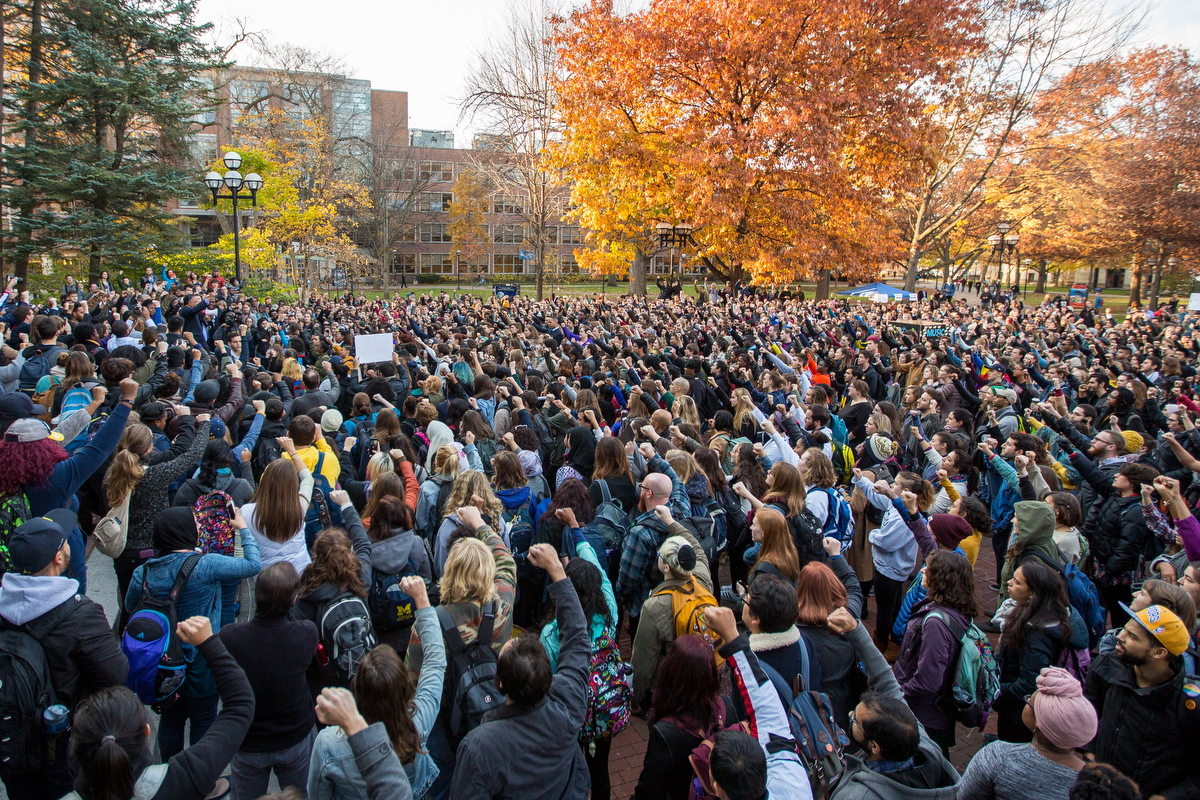 Rev Jesse Jackson addresses Michigan students while briefly attending a gathering of thousands of students at the Daig after they staged a walk-out at 3:00 p.m. on Wednesday, November 16, 2016.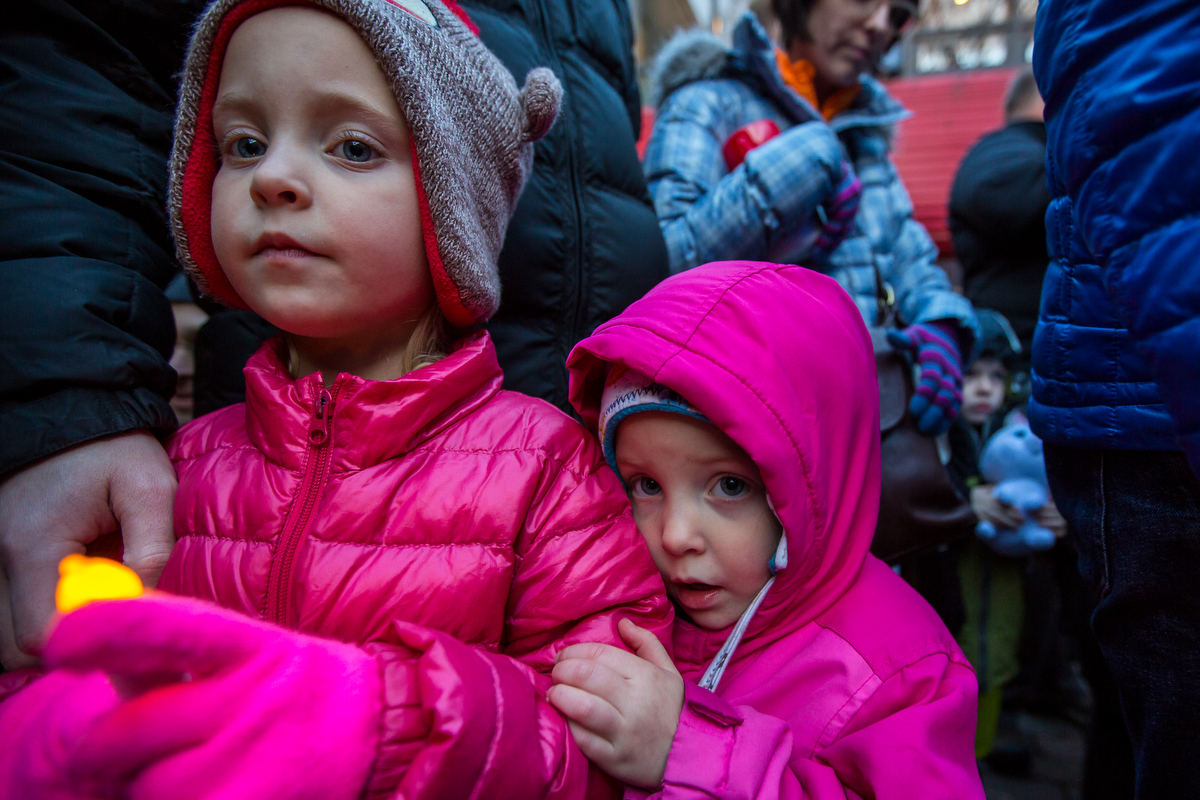 Corinne Marks, 6, left and her younger sister Truett, 4, eagerly wait the arrival of Santa at the Kerrytown Christmas tree lighting on Sunday, November 27, 2016. The lighting, which took place at the Kerrytown Market and Shops, featured singing from the Pioneer High School choir, a tree lighting and a visit from Santa.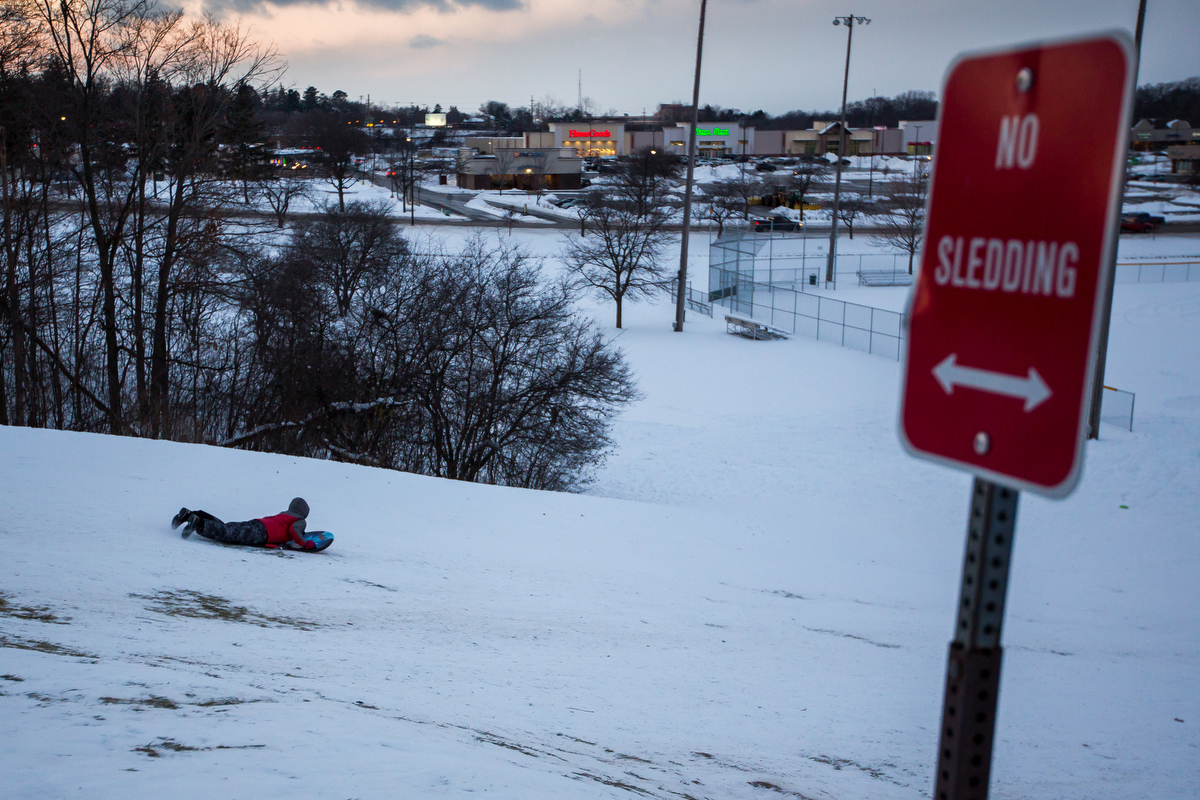 A young boy sleds down a hill at Veterans Memorial Park on Monday, December 12, 2016.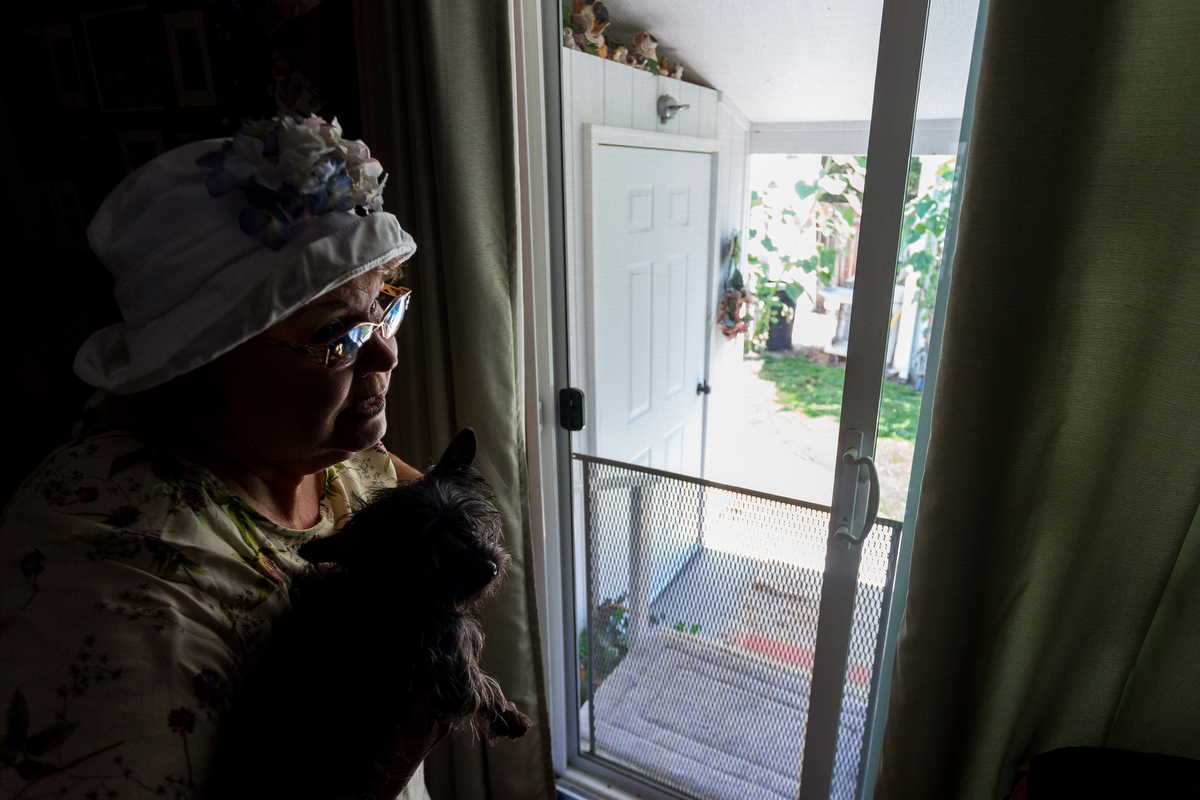 Penny Inglis shows how a raccoon broke through her bedroom screen door and attacked her two dogs Hazle, pictured and Gus on Thursday, July 30, 2015.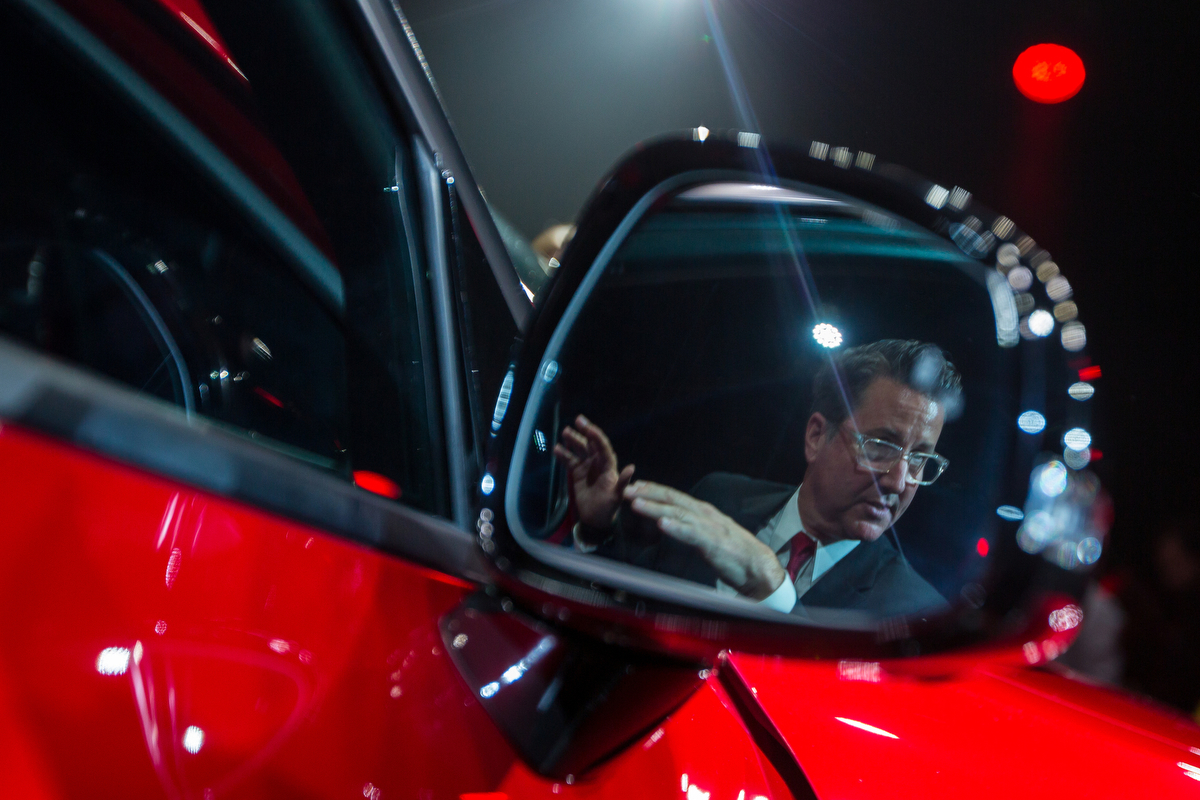 James Bell, Director of Corporate Communications for Kia, talks about the Kia Stinger, Kia's fastest production car, as it is unveiled at the Russell Industrial Center during the North American International Auto Show on Sunday, January 8, 2017. The Stinger maxed out at 151 miles per hour and is capable of accelerating 0-60 miles per hour in five seconds.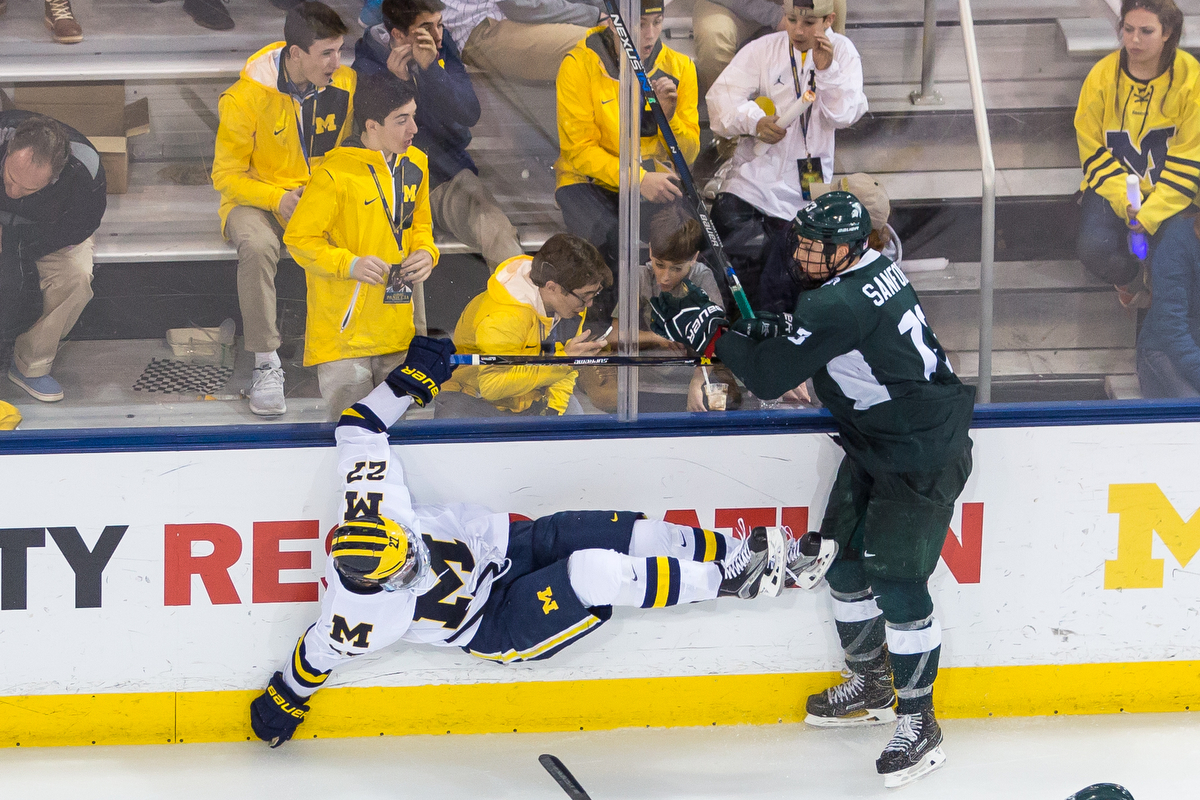 Michigan's Nicholas Boka (27) is thrown into the wall during the matchup against Michigan State at Yost Ice Arena on Saturday, February 11, 2017. The Michigan State Spartans beat the University of Michigan Wolverines 4-1.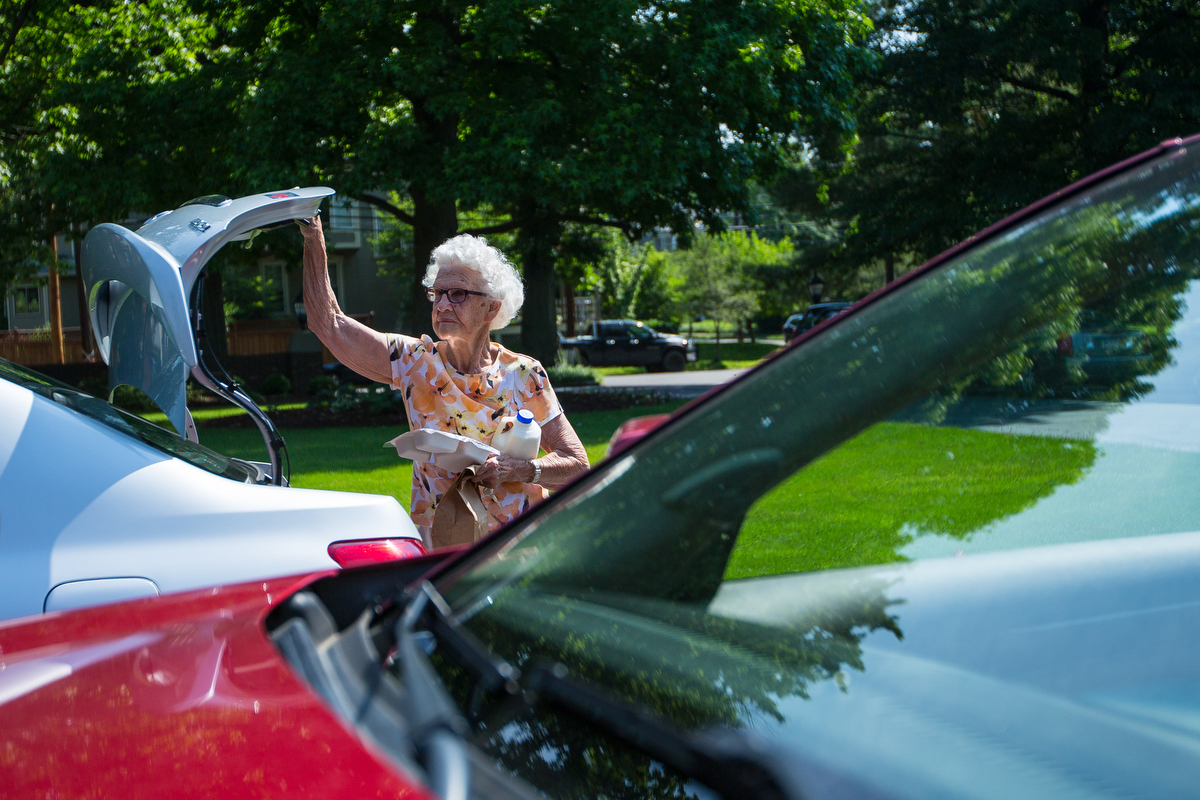 Hazel Cottage carries food to a resident for Meals on Wheels in Sewickey on Monday June 20, 2016. Cottage won the Unsung Hero Award for her 19 years of work with the the organization.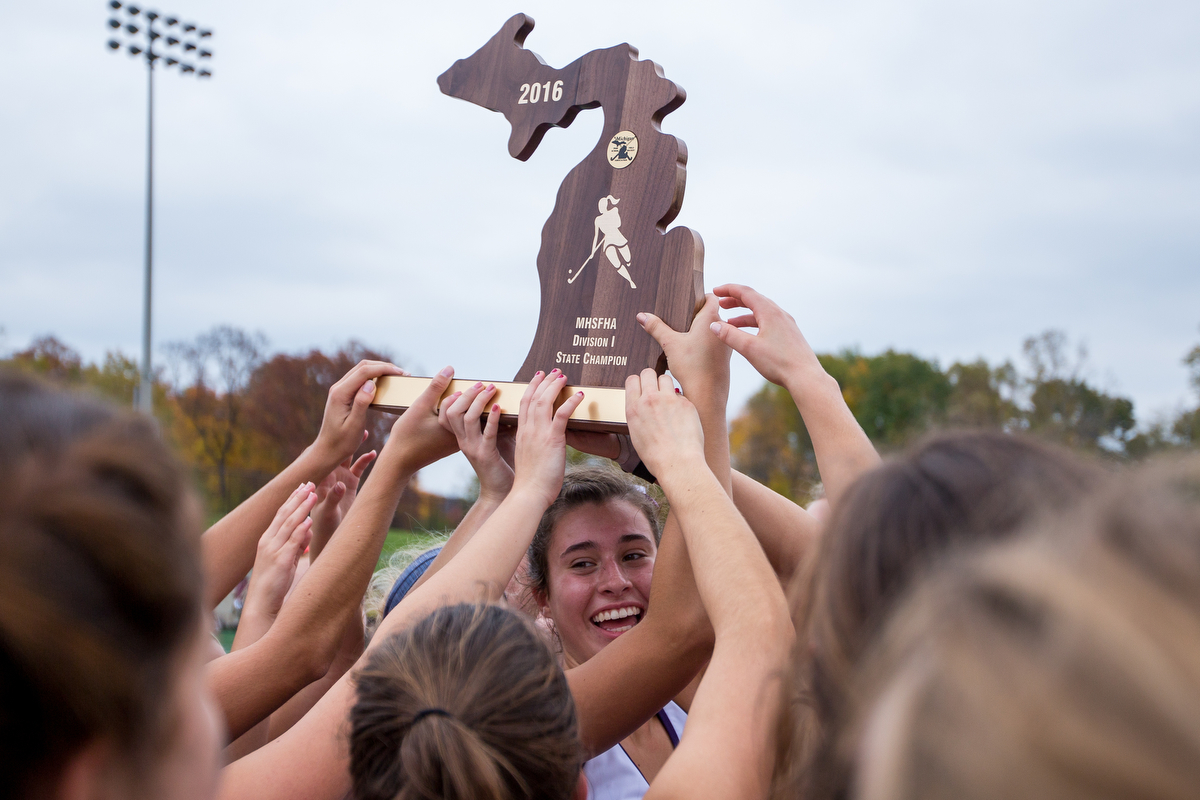 Players from Pioneer High School hold up the MHSFHA Division I State Championship trophy after their win in the D1 State Field Hockey Championships against Dexter High School at Skyline High School on Saturday, October 29, 2016. Pioneer beat Dexter during seven-on-seven overtime.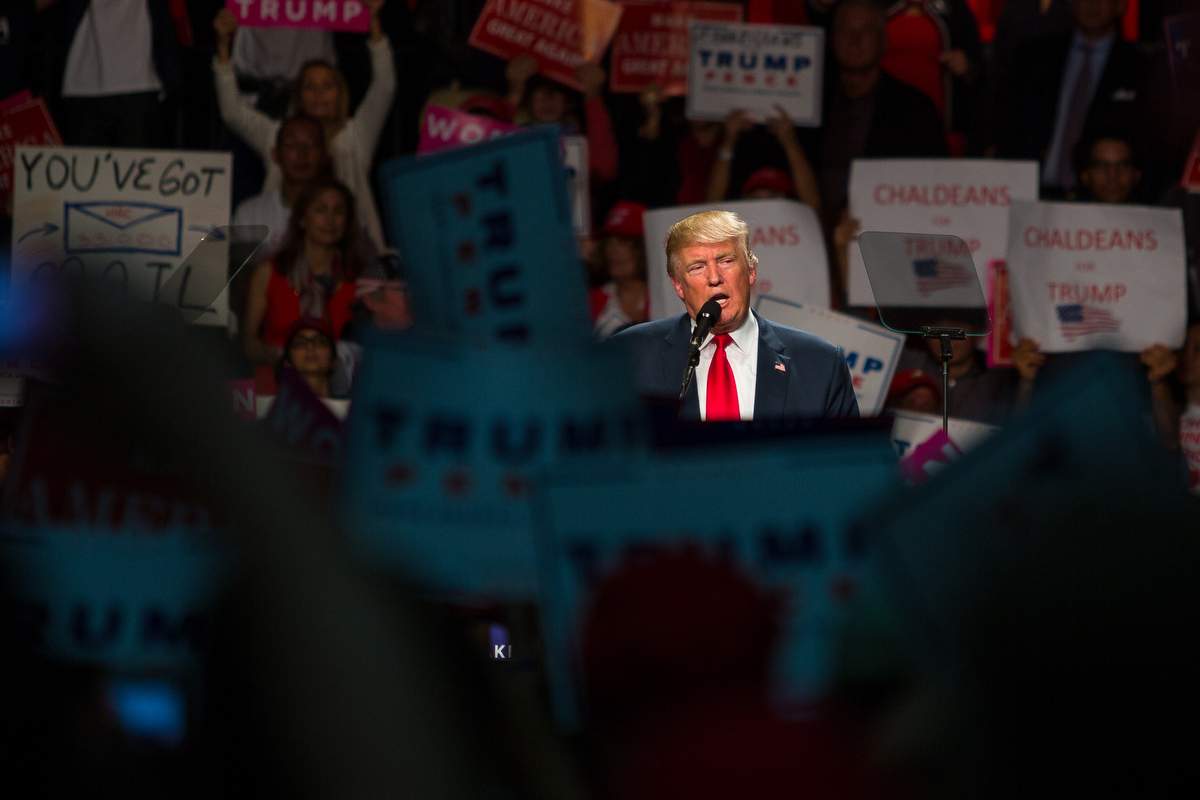 Republican presidential nominee Donald Trump speaks at Macomb Community College in Warren, MI.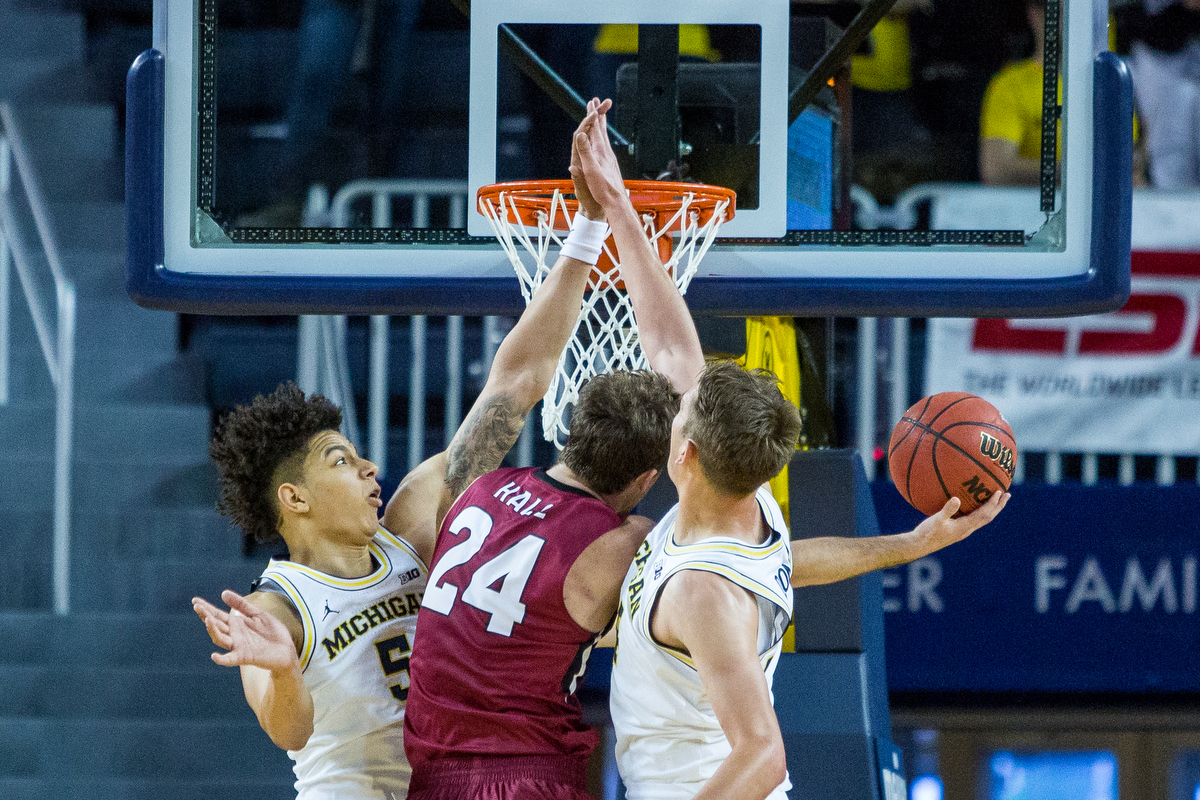 Michigan's D.J. Wilson (5), left and Michigan's Mark Donnal (34) foul IUPUI's Evan Hall (24) during the second half of play against IUPUI at the Crisler Arena on Sunday, November 13, 2016. The Michigan Wolverines beat the IUPUI Jaguars 77-65.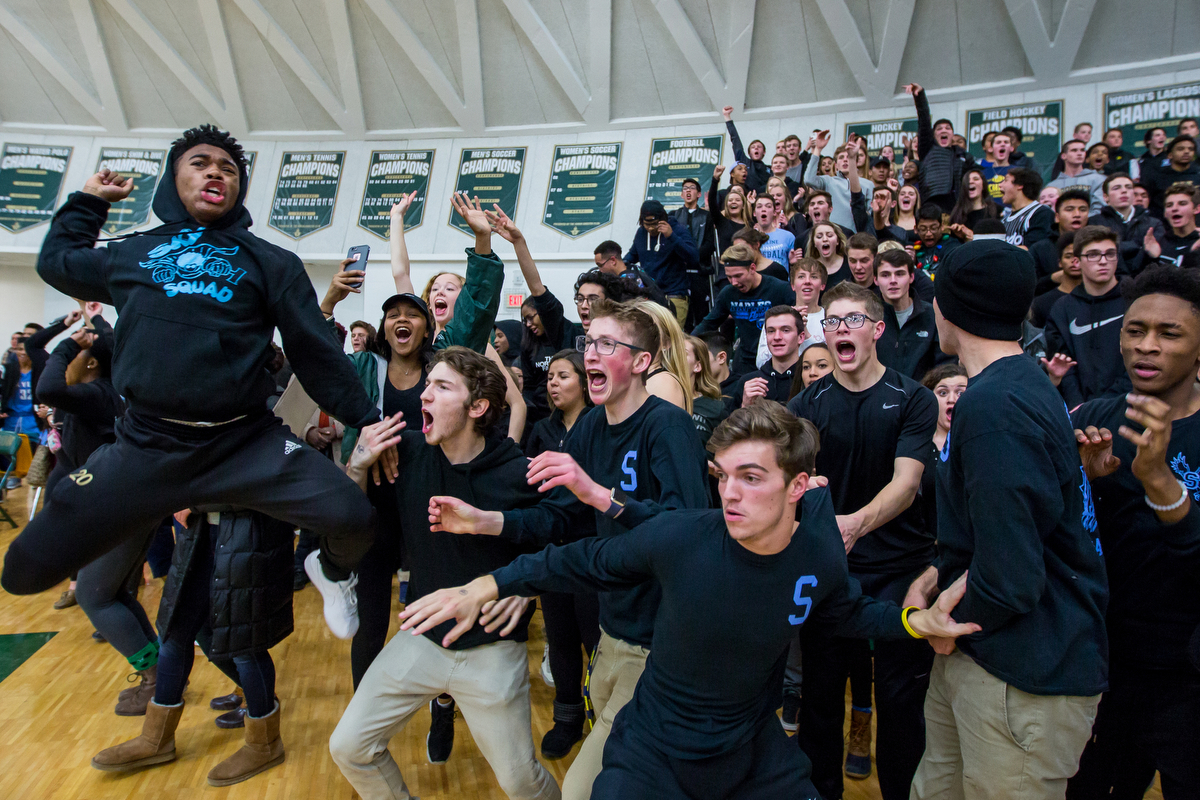 Skyline High School students react after Skyline beat Huron High School in triple overtime at Huron High School on Friday, December 16, 2016. Skyline High School beat Huron High School 95-92 in triple overtime.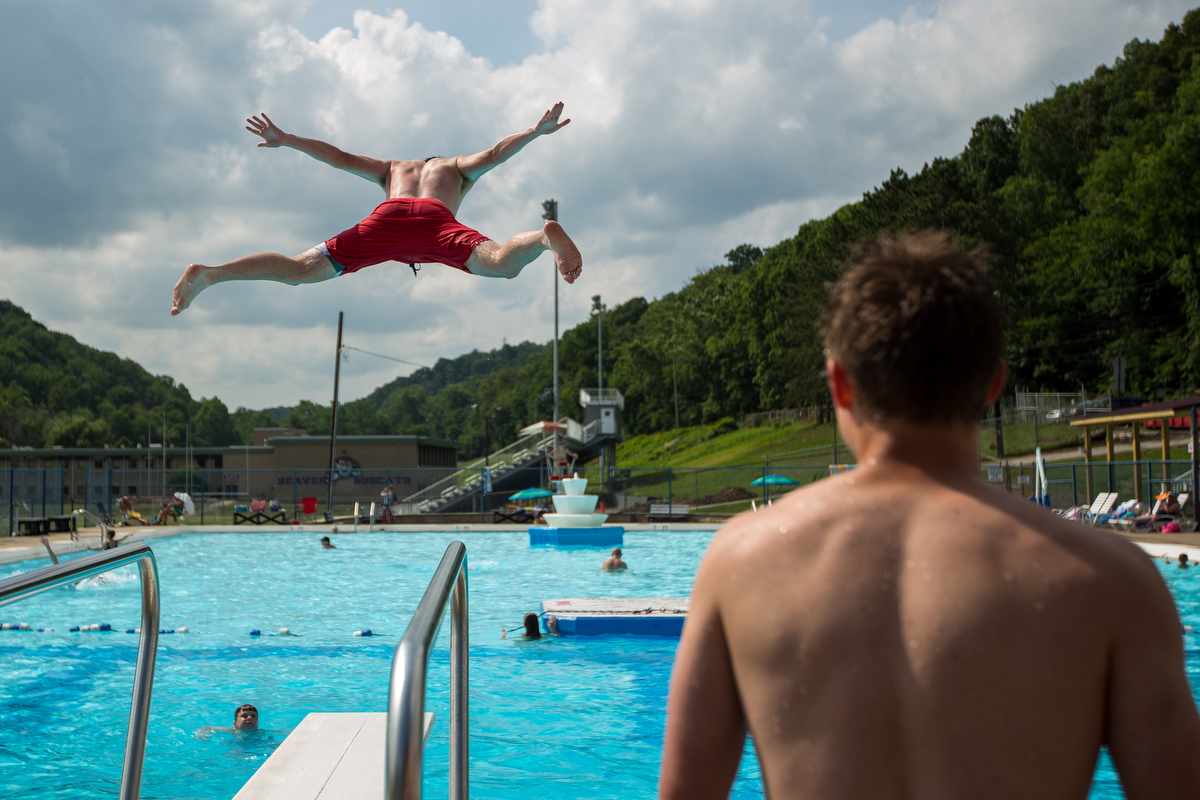 Patrick McGuckin, top left, jumps off of the diving board at the Beaver Pool white friend Zach Logan watches on Thursday July 7, 2016.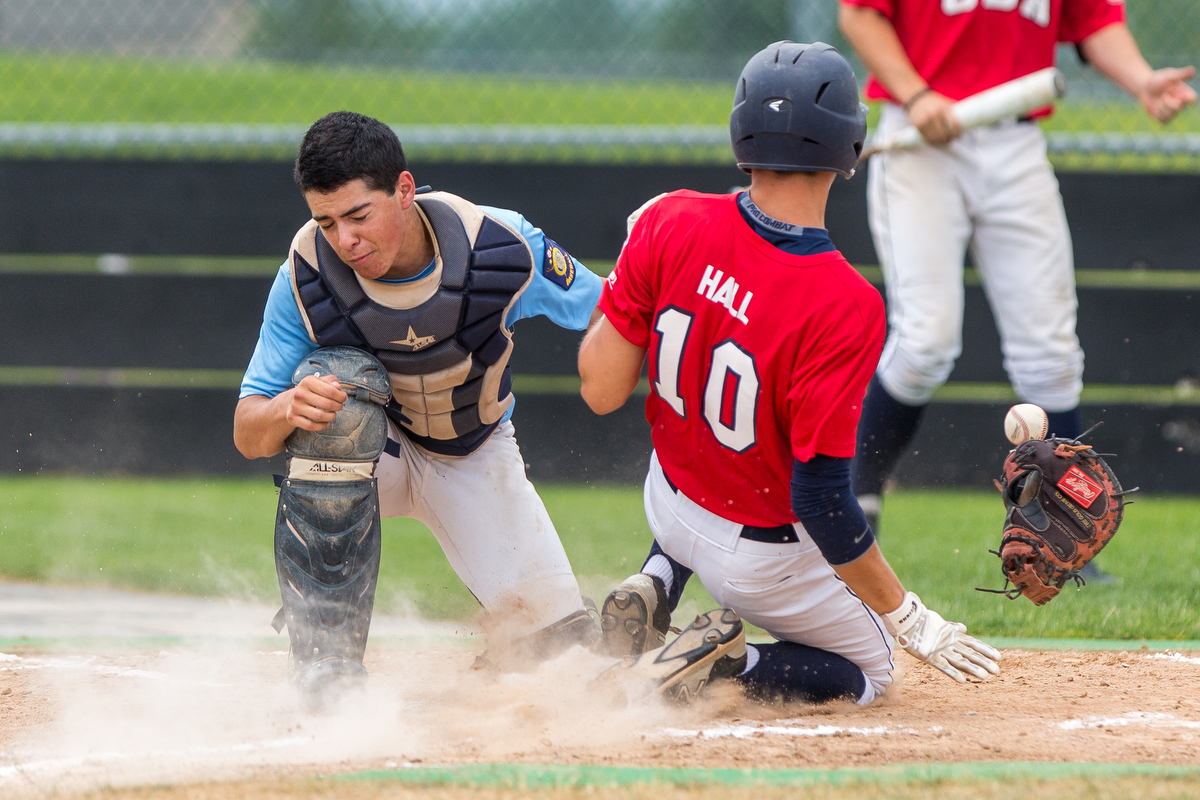 Jarrett Plunkett loses his glove while Jarred Hall slides into home during the first inning on Monday June 29, 2015. The Coeur d'Alene Lumbermen scored three runs during the first inning at Post Falls High School.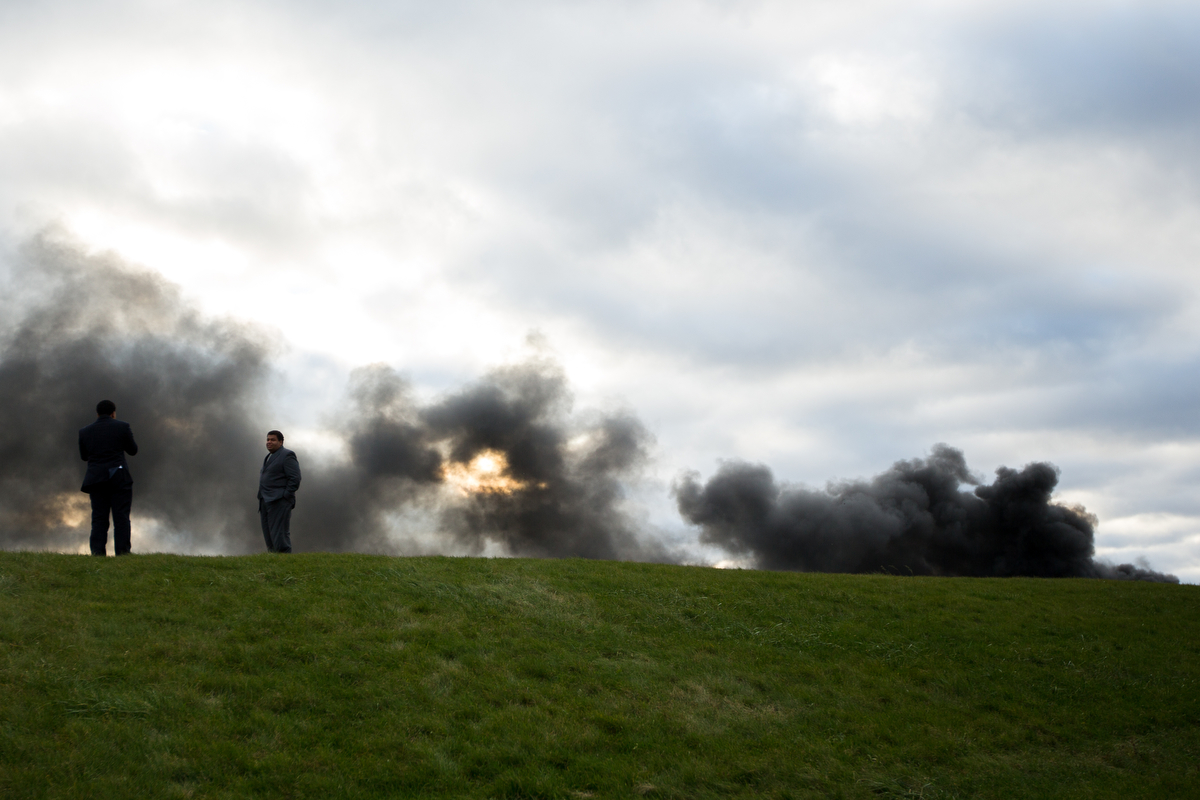 Two men stand atop a hill overlooking GLR Recycling Solutions near Salem Township where a fire at the recycling plant broke out on the afternoon of Sunday, November 20, 2016. Multiple fire departments have responded and there is not yet a cause for the fire.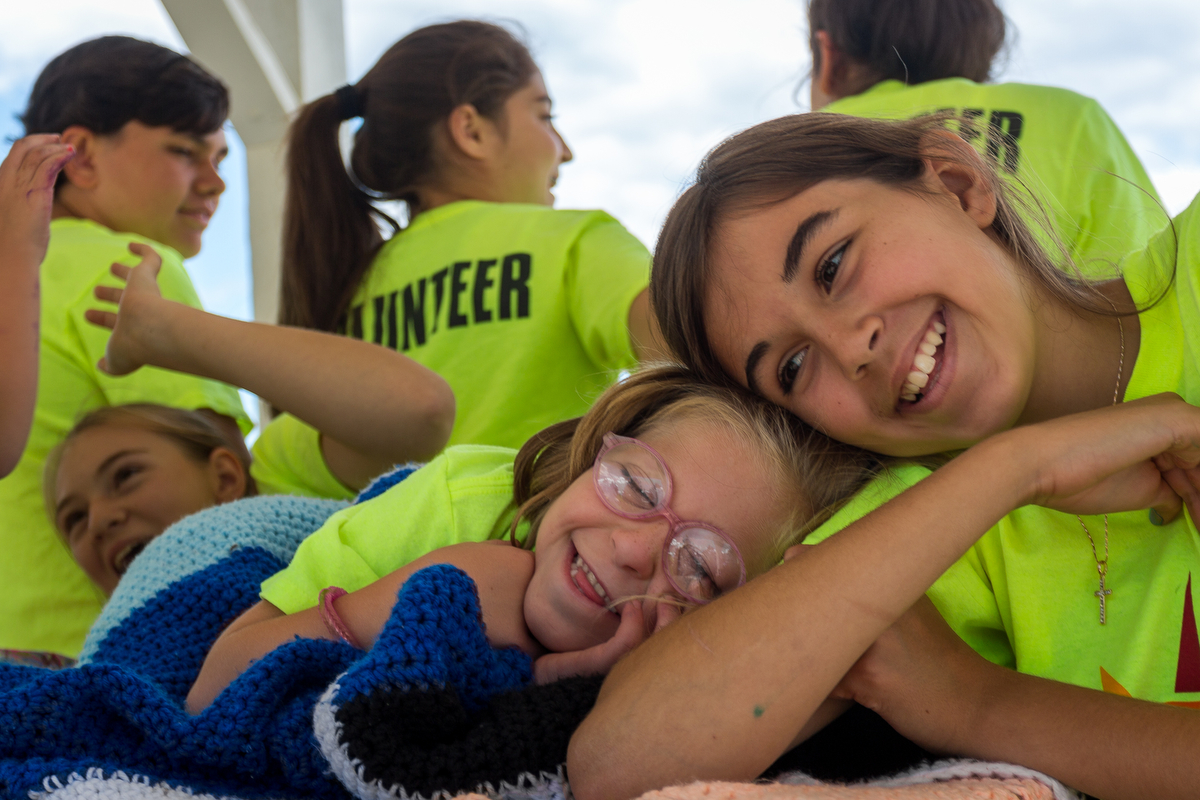 Katy Ryan (12), left and Lea Hyshop (9), lay together while waiting for members of the Coeur d'Alene Aero-Modeling Society to fly their remote control planes on Tuesday afternoon.